Bravo Stars Game Online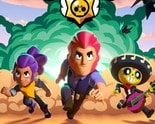 Description
Welcome to the world's cutest wars! Pick a stylish, powerful kid and jump into the battle with a team for fun! The match lasts for about five minutes, and you can play several turns without getting distracted from the process. Bravo Stars is for bounty hunters, trophy winners, collectors, and active close-weaved friends.
Win gems and open treasure boxes of different rarity, which can give you more gems, tokens, skins, guns, and even other brawlers! At the start, you will possess one cosmic-haired combatant with more to come later.
Trophies and gems are a necessity to survive. They upgrade your characters and profile, move you to higher ranks, thus, the harsher teams you will encounter. Honestly, it's an honor to be part of a strong team! However, if you're tired of social interactions, play a survival PVP with everyone fighting for their own glory. This game exists for everyone who loves to achieve the impossible and toss their enemies.
Recommended Games

635

1050