Night Of The Nun Game Online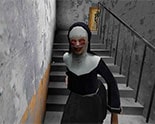 Description
Night Of The Nun has the creepiest atmosphere you've ever experienced!
You live in a huge mansion in the middle of the forest. A letter mysteriously arrives at your home stating that your daughter, who is in the boarding school, is ill. You decide to pick it up and hit the road.
At this time, a strong storm comes, and the road you need is blocked. You have to walk through the forest, where you encounter a crazy votaress. You must do whatever you want to save yourself!
204
Recommended Games

1437

2860

1275