Nun Massacre Game Online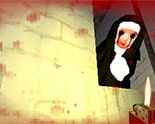 Description
In an unusual way, a letter from the boarding school got into your mailbox. The letter stated that your daughter is seriously ill and needs to be taken away. Without thinking twice, you packed up and went by car for the girl. After a while, a terrible storm began and you no longer have the opportunity to drive your car.
You decide to walk through the dark forest. It was not quite the right decision, because a blind votaress lives in this forest. This crazy woman will do her best to catch you and take your eyes out of you too.
Try to keep yourself in Nun Massacre!
642
Recommended Games

1405

2736

1264