Anime Gacha Life Game Online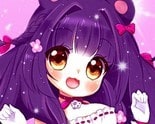 Description
What does it feel like to be the hero of a cartoon story? Let's find out in the anime Gacha Life.
Create yourself in 2D! Here, you're able to get any length and color of hair you want, as well as any shape of eyes, makeup, or even cat ears. Scroll myriads of options, and if you can't find something important to complete your look—buy it! The main currency in this world is sparkling gems. Earn them dancing, singing, playing mini-shooters and other casuals.
Thinking where to show your characters? Create a comic stripe in the built-in editor and earn positive feedback.
Recommended Games

1405

2736

1264