Gacha Plus Game Online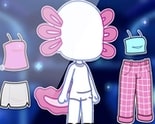 Description
The original version of the challenge quickly became popular. Over time, different mods began to appear with all possible additions. Everyone loved this process because here you can fantasize.
Gacha Plus also has a huge amount of improvements. The menu consists of appearance settings, hairstyles and skins. Tune parts of the face and body, and even put the character in the right pose.
His facial expressions can fully convey the emotions that you want to show on stage. When all the heroes are ready, go to the location! There, players will come up with phrases and movements for performances.
Feel free to experiment and add cool decorations or decorations! If necessary, you can find animals and weapons! Use them for the right purposes to get the perfect plot! It all depends on the creativity of the participants, so bring all your ideas to life!
Recommended Games

1108

1804

1095