Sonic Exe Mod Game Online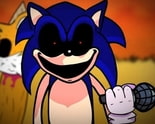 Description
Girlfriend and Boyfriend find themselves in a completely different world, where they meet the most popular hedgehog, who not only participated in races, but also starred in films. In the style of our main character, he invites him to enter into a musical battle with him, to which he agrees.
But this turned out to be not quite the image of the kind hedgehog we know. An evil demon has taken over the body of a real character!
In FNF Sonic.Exe, his skin looks very pale, his fur doesn't look very neat, and his mouth is wide, from where yellow fangs are visible. Blood stains are visible under his eyes even when he is not actually crying, which makes his image even more creepy! He gets into strange poses when he sings. Boyfriend considers him to be a strong opponent. Help our main character defeat the monster!
Recommended Games

1389

2618

1244