Bendy and the Dark Revival Game Online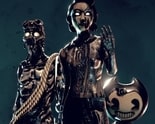 Description
Bendy and the Dark Revival is a continuation of the legendary horror. True fans are already familiar with the previous story and are ready to move on to the new one. This time, the players will have to take control of Audrey. Her main goal is to explore the depths of a terrible building.
Inside, animations were once made, but now everything is abandoned there. As you may have guessed, the place is saturated with evil and a creepy atmosphere. If you have enough courage, then quickly go to reveal the secrets.
Get patience and endurance to reach the end. The game has a lot of puzzles that will make you doubt your own mind. Show courage, ingenuity and attentiveness to get a good result! In addition, there are monsters all over the place.
They have ink abilities, so it's best to stay away from them. But you can't do without battles either, so be prepared for this! Danger can lurk around every corner, so don't screw it up! It's time to meet your favorite characters and help them!
Recommended Games

1086

1767

1085