Mobile Game Online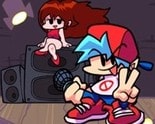 Description
FNF Mobile version is just the same as at desktops. You can play seven weeks in a full variant and even add special mods! The arrows are the only thing that is different: tap huge sensor buttons at the display when they reach the edge of the screen. Choose the difficulty wisely depending on your skill!
Outplay two renowned stars with their friends and rivals like Pico, Monster, Senpai, special guests Skid and Pump, Captain John, and fan-added vocalists Garcello, Hatsune, Tobi, Tricky, and others. Don't worry, you will have to replay their songs more than once, so you will have time to remember them.
Anyways, every member can support the application, even you! Do it by sharing your mods or respecting the hard work of others. The local community is quite nice and close-knit.
Recommended Games

635

1044