vs Retrospecter Game Online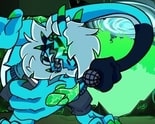 Description
In this mod, you can watch a musician, youtuber and streamer. He makes quality remixes for all kinds of songs. After the original app became very popular, he started remixing these songs too.
Now in Friday Night Funkin Retrospecter, you can play as this talented musician. He is in the form of a demon that looks somewhat like a dragon. He has blue skin, tail and hair, and he also has horns.
He is not as kind as he seems, he is quick-tempered enough, so you should be more careful with him, otherwise you never know what will find on him!
Recommended Games

1384

2618

1244