Friday Night Funkin Taki Game Online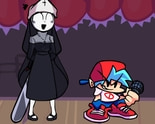 Description
This week you will play as Sarvente and face a crazy nun in a rap battle. Her image is really very creepy. Her height is about three meters, and in her hands she holds a chainsaw as a weapon.
You will have to fight her in several songs to win! Do not be distracted by her provocations and do not think about her chainsaw, which she took with her as entertainment!
The game will be very hot and intense! Watch the arrows carefully and do not get distracted, otherwise you will have the opportunity to lose to the insane nun… Be careful, good luck!
Recommended Games

1383

2618

1243